WEANLINGS FOR SALE
Click on the picture or description to view video footage:
Rascal - 2018 Weanling Gelding out of EM Reynah by Razmataz. Born 1-4-18, this sweet, curious chestnut colt has one hind sock, an unflappable temperament and rhythmic gaits. This colt is enormous, currently stands over 15 hands and should easily reach 17 hands. Reynah is by Rienzi out of a Wallstreet Kid mare. Reynah scored 8's in jumping at her mare performance test while only under saddle for 100 days. $4900.00
________________________________________________________________________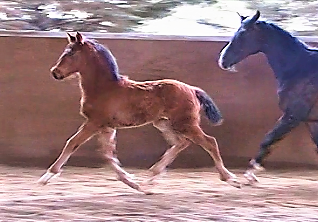 Rachel - 2018 Weanling filly out of MS Noblette by Razmataz. Born 1-5-18. this sweet bay filly has phenomenal movements. Noblette is a thoroughbred mare who passed the mare performance test with the Hanoverian Society placing her in the Main Studbook. An injury ended her promising dressage career.. $4900.00.
_________________________________________________________________________
_