WEANLINGS FOR SALE
Click on the picture or description to view video footage:
2018 Weanling colt out of EM Reynah by Razmataz. Born 1-4-18, this sweet, curious chestnut colt has one hind sock, an unflappable temperament and rhythmic gaits. Reynah is by Rienzi out of a Wallstreet Kid mare. Reynah scored 8's in jumping at her mare performance test while only under saddle for 100 days. $4900.00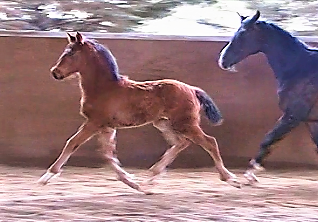 2018 Weanling filly out of MS Noblette by Razmataz. Born 1-5-18. this sweet bay filly has phenomenal movements. Her video shows her at only 2 months of age and already she has an amazing presence. Noblette is a thoroughbred mare who passed the mare performance test with the Hanoverian Society placing her in the Main Studbook. An injury ended her promising dressage career.. $4900.00.
2018 Weanling filly out of Recherche by Razmataz. Born 1-8-18 this lovely filly chestnut filly is loaded with chrome, has a super sweet disposition and floats across the ground. We coined the name Recherche for her mother after attempting to find out her pedigree. She is an approved for breeding, imported, Westphalian mare who was retired from her jumping career. This is her second foal for us and again she has produced a very remarkable filly. $4900.00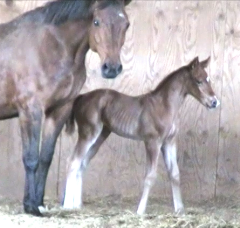 2018 Weanling filly out of MS Damenwunsch by Razmataz. Born 3-13-18 this lovely chestnut filly captured on our video at only 1 week of age already shows a great deal of promise. Although her mother regularly produces offspring with amazing jumping abilities this filly has the movement that will turn the heads of dressage enthusiasts. Damenwunsch is the daughter of an imported, Ramiro mare who was injured on the Grand Prix jumping circuit. $4900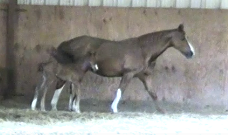 2018 Weanling Filly out of MS Gilda FCF by Razmataz. Born 5-6-18 this lovely chestnut filly has 2 stockings and a blaze. Gilda is by Grusus out of Pikture Perfect, a Pikadero mare and the producer of a number of very successful hunters. Gilda stands 17 hands and has the heavier physique of the old-fashioned Hanoverian. Crossed with Razmataz, her foals are large with very good temperaments. $4900.00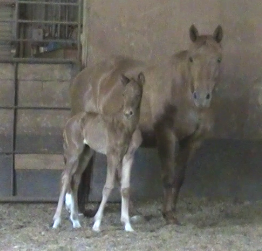 2018 Weanling Filly out of MS Gala by Razmataz. Born 5-9-18, another fabulous chestnut filly out of our favorite mare, Gala. All of her offspring have exceptional temperaments and are easy to train and ride. In addition they are blessed with phenomenal movements and athletic abilities. $4900.
.