WEANLINGS FOR SALE
Click on the picture or description to view video footage:
2018 Weanling colt out of EM Reynah by Razmataz. Born 1-4-18, this sweet, curious chestnut colt has one hind sock, an unflappable temperament and rhythmic gaits. This colt is enormous and should reach 17 hands. Reynah is by Rienzi out of a Wallstreet Kid mare. Reynah scored 8's in jumping at her mare performance test while only under saddle for 100 days. $4900.00
________________________________________________________________________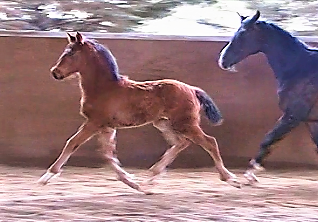 2018 Weanling filly out of MS Noblette by Razmataz. Born 1-5-18. this sweet bay filly has phenomenal movements. Her video shows her at only 2 months of age and already she has an amazing presence. Noblette is a thoroughbred mare who passed the mare performance test with the Hanoverian Society placing her in the Main Studbook. An injury ended her promising dressage career.. $4900.00.
_________________________________________________________________________
_